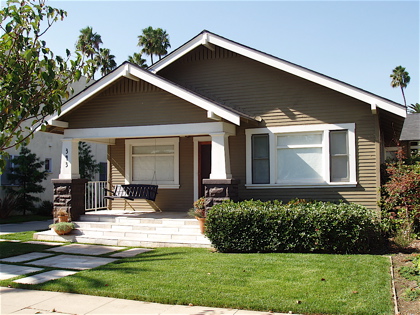 Bungalow Architecture

Bungalows are a form of residential architecture that was widely popular across America and, to some extent, the world between 1890 and 1940. Bungalows became so popular that companies like Sears, Roebuck & Co. and Montgomery Ward offered mail-order houses that were pre-cut in factories then shipped out for fabrication on site by local carpenters. One could buy a mail-order bungalow for as little as $900.
The bungalow actually traces its origins to the Indian province of Bengal. The native thatched roof huts were adapted by the British, who built bungalows as houses for administrators and as summer retreats. Refined and popularized in California, the first California house dubbed a bungalow was designed by the San Francisco architect A. Page Brown in the early 1890s.
Characteristics of a Bungalow
Influenced by the Arts and Crafts movement, bungalow architecture emphasizes a horizontal link between the house and the land around it. The use of natural, local materials and colors also reinforce this home-earth relationship. California Bungalows are commonly seen with Craftsman lines or in a Spanish Colonial motif.
Bungalow features:
Low, sloping roof either gabled (front or side) or hipped, often with wide overhangs
Exposed roof structure (beams, rafters)
Exterior proportions balanced rather than symmetrical in arrangement
Modest front porch
Front stoop
Focus on a garden, even if small
Open, informal floor plan
Prominent hearth
Interior wood details
Bungalow Styles
California bungalows are commonly seen with Craftsman lines or in a Spanish Colonial motif, but many surprising variations of bungalows exist, such as:
California
Craftsman
Mission
Tudor
Prairie
Foursquare
Spanish Colonial
Pueblo
Log Cabin
Colonial
Chicago
Cape Cod
Swiss Chalet
Moderne
Please visit the Cal Bungalow Photo Gallery page to browse through many of these styles. In addition, the Historic District Preservation Plan for the Anaheim Colony contains photos of a variety of architectural styles. You can download the plan here.
Color Schemes
Historically appropriate paint colors honor the authenticity of the architectural style of a home. Nature inspired tones of browns and greens are typical of a Craftsman bungalow. Spanish and mission style homes are typically white, off-white or a light brown hue. Trim is painted with contrasting paint color to accent the architectural details. Download the Historic Appropriate Paint Colors guideline from the City of Long Beach.
Interior and Exterior Features
Bungalows have a simple living room with the focal point being the fireplace, and a smaller kitchen. The living room often has a broad opening into the dining room. Built-in furniture such as sideboards, bookshelves, and window seats were common throughout the house. Wood was commonly used for flooring, wainscoting, chair rails, and geometric ceiling patterns. Stained and leaded glass was often used for windows and cabinet doors. Artisan light fixtures were also common.
Bungalow exteriors tend to be wood shingle, horizontal siding or stucco exteriors, as well as brick or stone exterior chimneys and a partial-width front porch. Larger bungalows might have asymmetrical "L" shaped porches.
Bungalow Neighborhoods
Bungalows can be found in the older neighborhoods of most American cities. Many cities have what is called a "Bungalow Belt" of homes built in the 1920s, often clustered along streetcar lines as they extended into the suburbs. Examples of Southern California neighborhoods with a high concentration of bungalows include Belmont Heights and Bluff Heights in Long Beach, Old Towne Orange, and Bungalow Heaven in Pasadena.
Bungalow and Craftsman Historic Districts
Anaheim
The Anaheim Colony
Historic District Preservation Plan >> download


Fullerton
Historic Districts
www.fullertonheritage.org

Long Beach

Belmont Heights
www.mybelmontheights.org

Bluff Heights
www.bluffheights.org

California Heights
www.calheights.org

Craftsman Village
www.craftsmanvillage.org

Rose Park
Rose Park Neighborhood Association
www.rpna.org

Orange
Old Towne Preservation Association
www.otpa.com

Pasadena
Bungalow Heaven
www.bungalowheaven.org

Tustin
Tustin Old Town
www.tustinca.org
Craftsman Revival
Craftsman architecture has experienced a revival, combining new construction with the Craftsman style, attention to detail, and a modern approach to planning and functionality. The terms "neo-Craftsman" and "Contemporary Craftsman" have been coined to describe these newer homes. The most dominant example of this architectural revival is the Montage Resort in Laguna Beach. Other fine examples of contemporary Craftsman architecture can be found throughout Laguna Beach and Orange County coastal cities such as Corona Del Mar and Newport Beach.
To read more about the spectacular Craftsman architecture and design of the Montage Resort, click here.